Challah II With Maple Syrup Glaze (Eggless Version)
Dena Jo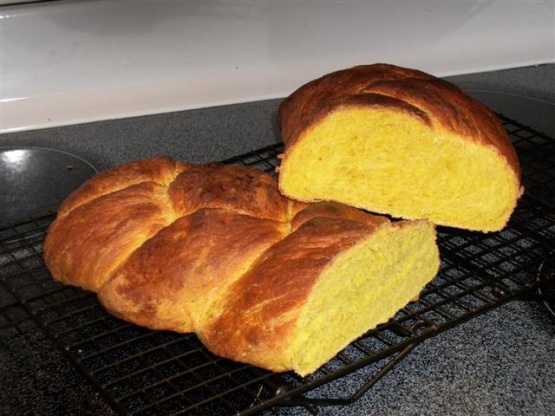 I love this challah recipe! It has no eggs and very little oil but tastes delicious. This recipe can be easily made in a KitchenAid mixer or a bread machine. Although the maple syrup glaze isn't very conventional, I think it tastes great.

So excited for success the first time I tried to make challah bread! I used two extra tablespoons of oil to make up for the lack of eggs as suggested by another reviewer. But my picky allergen eater loved it, and the rest of his classmates gobbled it up as well.
Preheat oven to 400°F.
Dissolve sugar in 1/2 cup water in bowl of mixer.
Sprinkle yeast over water and mix, let stand 10 minutes until foamy.
Add remaining ingredients into mixing bowl.
Mix with dough hook for 6 minutes.
Place in oiled bowl, cover and let rise in warm place until double in bulk.
Punch down dough.
Let rise until double in bulk.
Punch down again.
Divide dough into 3 equal parts.
Roll dough into 3 long strands.
Braid the strands, tucking the ends under.
Cover with towel and let double in bulk.
Glaze with maple syrup.
Bake at 400 F for approximately 30 minutes, until golden brown.
The challah is done when it sounds hollow when thumped on the bottom.