Challah I (Braided Egg Bread)
Anonymous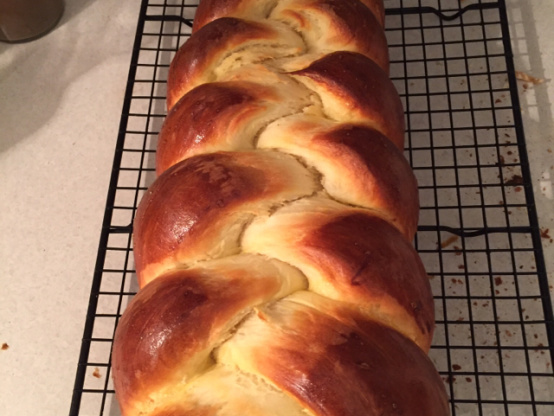 I bake challah every week for our Sabbath meal. It's so easy to make in a KitchenAid mixer. Challah tastes great in French Toast or Cinnamon Toast recipes. This challah recipe is my kid's favorite.

A family favourite now and I have given it as gifts a couple times already. So easy and yummy. I only used 3.5 cups of flour though and 4 was too much. Thanks for sharing!
Preheat oven to 400°F Dissolve 1 teaspoon sugar in 1/2 cup water in bowl of mixer. Sprinkle yeast over water and mix,let stand 10 minutes until foamy.
Add the next 6 ingredients to mixing bowl. Mix with dough hook for 6 minutes. Dough should be a little sticky.
Place in oiled bowl, cover and let rise in warm place until double in bulk.
Punch down dough. Let rise again until double in bulk.
Punch down again. Divide dough into 3 equal parts.
Roll dough into three long strands. Braid the strands, tucking ends under. Cover with towel and let double in bulk.
Brush with beaten egg yolk. Sprinkle with seeds. Bake at 400 F for approximately 30 minutes, until golden brown. The challah is done when it sounds hollow when thumped on the bottom.