Boomette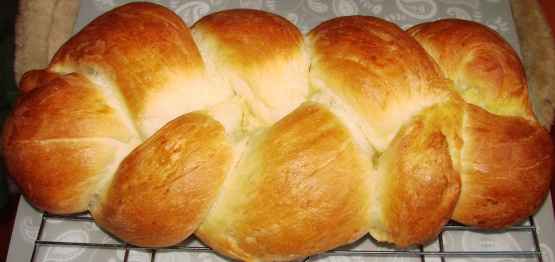 This is my favorite bread from childhood...different recipe but same kind of bread. Recipe courtesy of Betty Crocker's New Cookbook.
I decided to do this recipe in my bread machine. I added all of the ingredients for the bread in the order recommended by the manufacturer. I used 2 3/4 cups all purpose flour. I used the dough setting. I needed to add just a little bit water because it seemed dry in the machine. The dough turned out perfect. I got a nice bread. I chose not to use poppy seeds. It was great fresh with butter, but it's also great toasted with butter. Thanks AmyZoe :) Made for New Kids on the block tag game







Mix 1 1/4 cups of the flour, the yeast, sugar, and salt in large bowl.
Heat water and 1 tablespoon oil until very warm (120 to 130).
Add water mixture to flour mixture.
Beat with electric mixer on low speed 1 minute, scraping bowl frequently.
Beat on medium speed 1 minute, scraping bowl frequently.
Beat in 1 egg until smooth.
Stir in enough remaining flour to make dough easy to handle.
Turn dough onto lightly floured surface.
Knead about 5 minutes or until smooth and elastic.
Place in greased bowl and turn greased side up.
Cover and let rise in warm place 1 1/2 to 2 hours or until double.
Dough is ready if indentation remains when touched.
Lightly grease cookie sheet with shortening.
Punch down dough and divide into 3 equal parts.
Roll each part into a rope, 14 inches long.
Place ropes close together on cookie sheet.
Braid ropes gently and loosely--do not stretch.
Fasten ends and tuck ends under braid securely.
Brush with oil.
Cover and let rise in warm place 40 to 50 minutes or until double.
Heat oven to 375.
Mix egg yolk and 2 tablespoons water and brush over braid. Sprinkle with poppy seed.
Bake 25 to 30 minutes or until golden brown.
Check bread at 15 minutes and tent with aluminum foil if it seems to be browning too quickly.
Remove from cookie sheet to wire rack and cool.