wizkid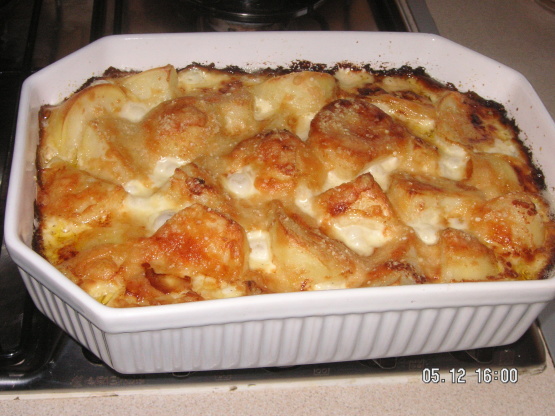 This is a recipie given to me by my cousin Mary.

I agree with Jen T's comments. I have made this a few times, but now to reduce the fat content I use a reduced fat cream and I have reduced the cheeses by about a third. I think it still tastes as good. Thank your cousin Mary for me!
1 1⁄2 lbs small even sized potatoes

10

fluid ounces cream

3

cloves garlic, finely chopped

2

teaspoons of freshly grated nutmeg

4

ounces parmesan cheese, grated

4

ounces emmenthaler cheese or 4 ounces gruyere, grated
Parboil the potatoes.
Put the potatoes into a casserole dish.
mix the gream, garlic and nutmeg.
pour the cream mixture onto the potatoes.
Place the grated cheese on top.
Cook in a preheated medium oven 45-50 minutes.
Serve.