Nimz1466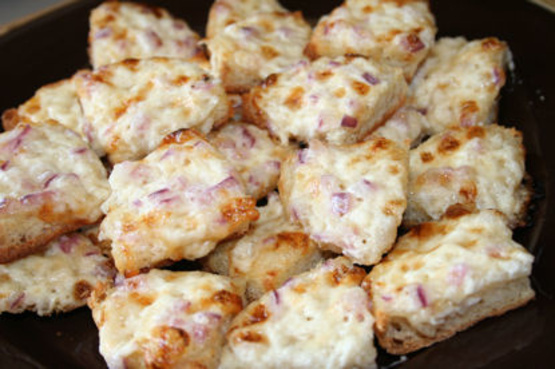 These are easy little appetizers. The topping can be made ahead of time. English muffins may also be used.

Top Review by Stewie
I should have read the last sentence first--Do not burn! These have to be watched--my oven did them in about 8 minutes. They are really delightful. I made them with bread triangles--next time I'll try English muffins. The topping was a bit liquid so I stuck them in the freezer to "flash freeze" for about 15 minutes and that worked well. I used dried minced onions as I didn't have fresh on hand. I'll definitely make these again (and maybe even experiment to see if I can freeze them). Thanks, Merlot, for a good, easy recipe!
Combine mayo, parmesan, onion and worcestershire,pinch salt & pepper.
Mix well.
Slice bread 1/2 inch thick.
Spread with the topping.
Bake 475 degrees until lightly brown (10-15 mins).
DO NOT BURN.