Chai Semolina With Honey Apples
loof751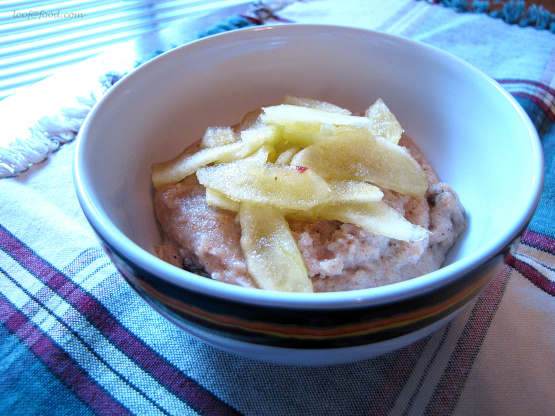 From Little Ideas Diabetes by Jody Vassallo - been given this little cookbook and saving the recipes that interest me for safe keeping in case the book grows legs and walks away.

This is real treat! I used raisins instead of the dried apples, otherwise made as directed. Smells so good while cooking and the chai spices are great with the honey apples. Between the fruit and the small amount of honey this is just sweet enough without being overly so. Really loved this - thanks for sharing the recipe!
Put the ground spices, semolina, dried apples and milk into a pan and stir over medium heat for 10 minutes or until the semolina is thick and smooth.
Place the sliced apples and honey into a pan and cook over mnedium heat for 5 minutes or until the apples are soft and golden.
Spoon the semolina into 4 bowls and top with the honey apples.