3 Reviews
Definately out of the three recipes I tried for the contest this clearly was the favorite, and worth the 5 stars, if not more. Thought the sauce was exceptional, as it was enough for a 3 pound batch, with just enough to use as a dip for some fries. Sauce was perfectly seasoned with a different, but nicely flavored. Good luck in the contest. Made for RSC 18..

Yummy! These turned out so good and were super easy to make. I used 6 wings that I cut in half and made the full amount of sauce. I used 1 cup of the tea and that was the perfect consistency for my taste. The wings not only looked gorgeous, they tasted like "MORE". Thanks so much for sharing a true keeper. Good luck in the contest.
I couldn't wait to taste these while they were baking...even my husband started getting impatient :) They cooked perfectly after I pre-cooked the wings, then basted them and had them cook for 15 more minutes. When we ate them, my husband wasn't too thrilled with the sauce, but I liked it! I slathered more sauce on my wings after, my only wish is that the sauce was either more salty or more sweet. The chai taste was definitely there though and I enjoyed eating something different--I never would have thought of chai bbq sauce. If I make this again, I will add more salt and more corn syrup. Made for RSC #18.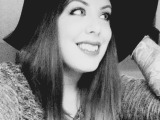 Chai BBQ Wings