AlainaF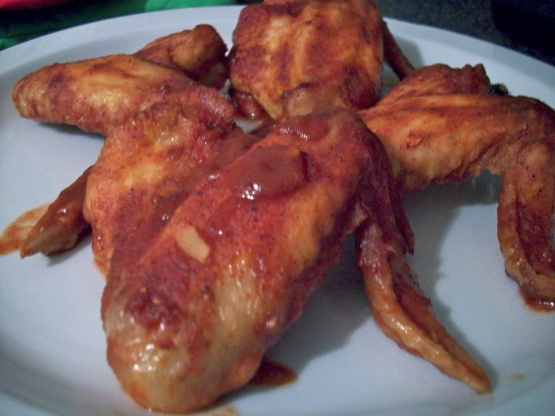 Developed for RSC#18. A different but delicious way to serve a favorite snack! Feel free to cook the wings however you like best - bake, fry, grill - whatever. I set them on a metal cooling rack on a baking sheet in the oven for 45 minutes initially. 1 hour cook time is how long it took me to make this by baking the wings. It may differ for you depending on your method of cooking your wings. Enjoy!

Definately out of the three recipes I tried for the contest this clearly was the favorite, and worth the 5 stars, if not more. Thought the sauce was exceptional, as it was enough for a 3 pound batch, with just enough to use as a dip for some fries. Sauce was perfectly seasoned with a different, but nicely flavored. Good luck in the contest. Made for RSC 18..
While your wings are cooking, steep your tea. I used 1tsp tea leaves in 2c boiling water & let it sit for 10 minutes, then strained it. You could use 3 tea bags in a similar manner.
Empty tomato paste into a bowl, add corn syrup & spices. Mix thoroughly. Add 1 - 2c of the tea until it to your desired consistency. I used 1 3/4c.
With a pastry brush, slather the sauce on the wings. Bake for 15 minutes in a 400F oven until the sauce has become one with the wings. Let cool for a moment then enjoy. Don't forget the napkins!