Rita1652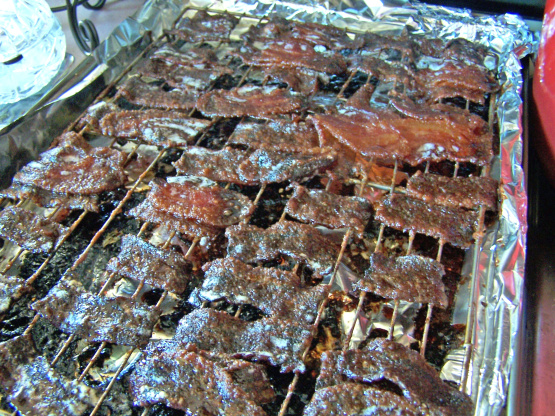 This is one of those old family recipes that, every few years, everyone starts looking for. This year no one could find it so I hunted all over for the recipe and then passed it on to my brother and a cousin. So mostly I am posting it here so I don't lose it! Very tasty but certainly not an everyday type recipe. We originally got this from a family friend who was from Chagrin Falls, Ohio. Hence the name!

This was a big hit at our holiday party and so easy to prepare. I think everyone is in high anticipation of the next cocktail party so they can get some more of this tasty treat. Thanks for this recipe.
Take a baking pan and line it with foil. Then place a rack on the foil and set aside.
Preheat the oven to 350 degrees.
Mix together the brown sugar and spices in a bowl.
Cut the bacon in half so each original piece is now 2 pieces.
Dredge the bacon pieces in the brown sugar mixture, coating well.
Put each piece of bacon on the rack.
Cook for 20-30 minutes.
Use tongs to remove from the rack (they will be VERY hot!) and place on wax paper to cool.
Can be frozen.