Cha-ching! Carrot Spice Muffins
PaulaG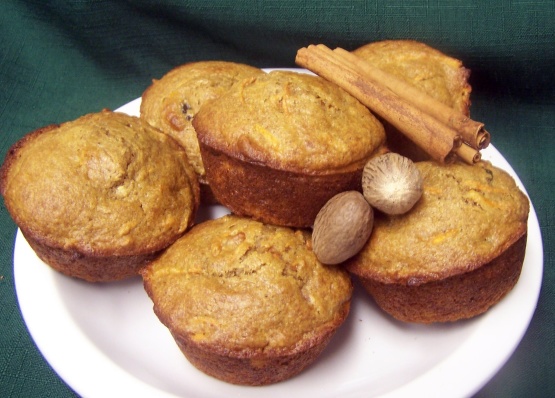 You'll think you hit the jackpot when you take a bite of these babies. Happily healthy with whole wheat flour and other nutritious goodies, put your money on these muffins for breakfast or as the perfect anytime snack. Recipe is from the La Leache League International cookbook "Whole Foods for the Whole Family" and credited to Cathy Grant (Richmond, British Columbia), Marion Bueche (Gray, Saskatchewan) and Margaret J. Donner (Kitchner, Ontario). Prep time does not include time to grate carrots.

Scrumptious and much healthier than the coffee cake I made on the weekend! I cheated with grating the carrots, just chopped them up and dumped them in the mini food processor set to grind. I used 1 tsp pumpkin pie spice instead of the cinnamon, nutmeg, ginger and allspice -- I imagine it's probably about the same. I used honey, buttermilk and applesauce. These made exactly 18 muffins and took exactly 15 minutes to cook. I could barely wait for them to cool to eat one. Yum!
Preheat oven to 400°F.
Mix together dry ingredients- flour, soda, powder, salt, cinnamon, nutmeg, ginger, allspice.
Mix together wet ingredients- honey/brown sugar, egg, buttermilk/yogurt, oil, vanilla and the carrots, raisins and nuts.
Stir the wet and dry ingredients together until just moistened.
Bake for about 15 minutes, or until a toothpick inserted into the center of a muffin comes out clean.