Xexe383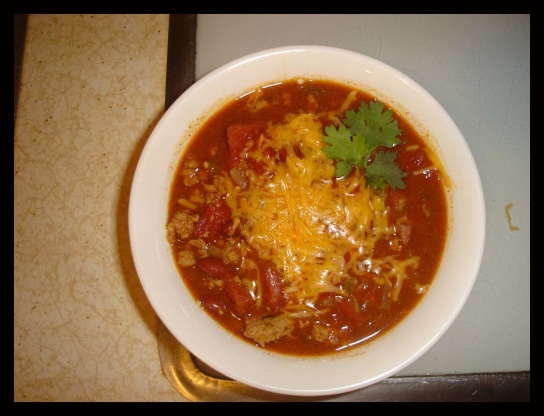 This recipe has just evolved over the years. It's more of stew than a chili in my opinion. Everyone always loves it. You can make it as hot or as mild as you family likes. We usually have crackers or cornbread with it.

First I apologize with being late on my review. Dang you know how I am! But I have to tell you, you did me quite the honor here. Ok I'm not keen on ground chicken or turkey....It's a mental thing, but you proved me wrong! I did not tell my family that it was ground chicken. (they get it from me) instead I said it was a different kind of chili (california chili) LOL Which was fine with the man as he likes the beans added. (sigh) At any rate I was thrilled with the results and flavor! Will be making often. How can anyone resist with a name like that? Riff it really is fantastic girl! Thank you for thinking of me! It's perfection! And your right it is (nearly) as pretty as me! LOL You've got to try this people!
Cook meat, add onion, celery and poblano about halfway through.
You may have to a dd a little oil if it starts to stick.
Add salt and pepper to meat so it will not be bland, we are building flavors here.
Add garlic near the end, be careful not to burn as it will be bitter.
Sprinkle McCormicks (packaged chili mix) and chili powder over meat and veggies and stir well.
Cook over medium heat for a minute or so.
Pour in chicken stock, canned tomatoes with juice and add chipoltles (this is how you control the heat), if using.
Cook down for 15 or 20 minutes.
Add rinsed beans and corn (with juice).
To make this a soup: Add 2 more cans of stock.
Top with green onion, cheese and sour cream.