Ceviche on the Quick and Cheap
Brenda.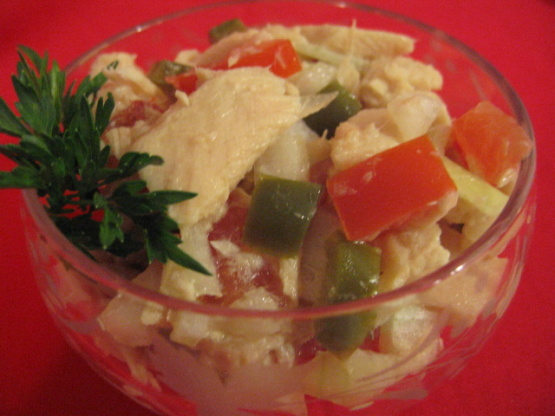 My sister's boyfriend made awesome shrimp ceviche for our Thanksgiving dinner. The raw shrimp turned pink as they "cooked" in the lime juice. The juice also cooks the onions and the other ingredients. He mentioned that you can also make ceviche using store-bought, canned tuna. The tuna's already cooked, but the taste is the same. I'd make this with raw fish for a dinner party, but for everyday this tastes great and is ridiculously easy.

This ceviche is quick and cheap...and authentic other than the fact that you arent using fresh raw fish and cooking it in lime...other than that it tastes the same. I love eating this as a quick lunch with tortilla chips and chulula. Thanks for sharing!
Drain the tuna and put it in a small bowl.
Add the lime juice. 1/2 cup is an approximation. Basically, it should cover as much of the tuna as possible, but the tuna should not be swimming in it. You can stir every once in a while to make sure all the fish has the chance to get "cooked" in the lime juice.
Chop the onions, tomatoes, and jalapeno (leave the seeds in for more heat), and add them to the bowl. Stir.
Let it all marinate for 10 minutes or so, stirring every once in a while.