rpgaymer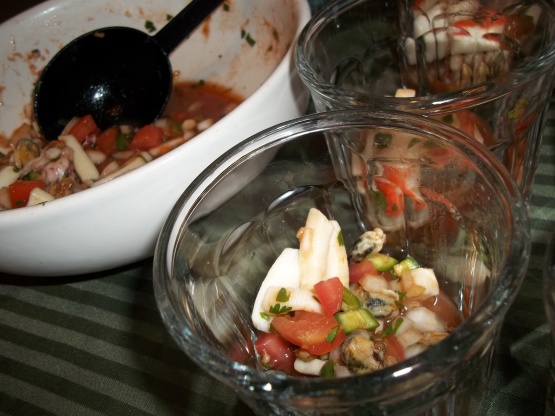 Excellent meal for the summer, since there is no cooking involved and it is cool. Any thick, firm white fish can be used. The citrus juice cooks the fish. You can also add shrimp or scallops and substitute for part of the fish. This is adapted from "A Treasury of Great Recipes" by Mary and Vincent Price. Cooking time is the marinating time in the refrigerator. Letting it sit in the vegetable mixture overnight is not included. Posted for ZWT5.

Yum! DH and I both love ceviche, and this one didn't disappoint! I used halibut for the fish, lime juice, and Valentina hot sauce (quite a few dashes of it, to be exact -- DH likes his ceviche spicy). I didn't have any canned tomato puree, so I replaced that with an equal amout of El Pato spicy tomato sauce (the yellow can type). I also used Clamato for the tomato juice because I had an open bottle in the fridge left over from another recipe. Loved the chopped olives in this, too. We enjoyed this with lots of saltines. Thanks for posting! Made by a fellow Honey for ZWT8
Cut the fish into 1 inch cubes. Marinate in 2 cups lemon or lime juice in the refrigerator for 6 hours.
In a bowl, mix 2 cups chopped onion, 1/2 cup tomato puree, 1/2 cup tomato juice, 1 tbsp salt, 16 chopped green olives, 2 tbsp Worcestershire sauce, 1 tsp Tabasco, 2 chopped jalapenos, 3 chopped peeled and seeded tomatoes, and 2 tbsp cilantro or parsley.
After 6 hours, remove the fish from the refrigerator. Pour off 1 cup of the lemon or lime juice and add the above sauce to the fish and remaining juice. Mix well and let stand in the refrigerator overnight.
Garnish with avocado if desired.