Cevapcici S Ajvarom ( Balkan Country Sausage)
ms.susan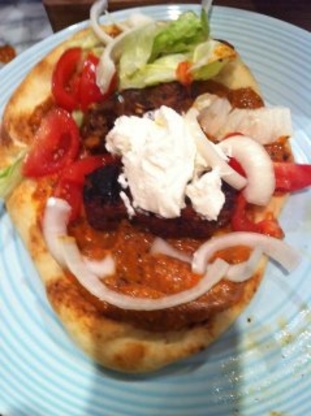 In 2/08 Saveur, I found this recipe. Will be trying when we eat meat again in late Spring, but this looked too good NOT to post!

These were truly wonderful! It will definitely keep the vampires away!
I am not a fan of lamb but thought I would give it a try, because a friend introduced me to this dish. Next time I will make them with just the veal and pork.
I roasted the peppers and eggplant on the BBQ which made the ajvar sauce very silky and smoky...delicious!
Thank you for this recipe. We will certainly be making it again!
Roughly chop 4 garlic cloves with 1/2 tsp salt, using flat side of large knife, mash garlic into a paste. Transfer to a bowl, mix with beef, lamb, pork and half the paprika, savory, cayenne, GRATED onion, 2 tsp salt and 2 tsp pepper. Add soda water; bea with a spoon till tacky. Knead with with your hands for 3 minutes; cover and refrigerate 2 hours.
Knead mixture once more for about 1 minutes, then shape into sixteen 3" long sausages. Transfer to a sheet pan. Cover and refrigerate 1 hour.
Meanwhile, make the sauce. Heat broiler, with rack 6 inches from broiler element. Arrange peppers and eggplant on foil lined baking sheet in a single layer, cut sides down. Rub with 1 Tablespoon olive oil, sprinkle with salt. Broil, turning once, till softened and somewhat charred, 14-15 minutes. Remove and discard skins from peppers. Scoop flesh from eggplant, discard skin and largest seeds. Pulse eggplant and 4 tablespoons olive oil in food processor with remaining garlic to make a coarse puree; transfer to a bowl. Puree peppers, add to eggplant and stir in remaining paprika, vinegar, sugar and salt and pepper to taste. Cover and set sauce aside.
Heat remaining olive oil in large skillet over medium high heat. Cook sausages, turning occasionally, till browned, 6-8 minutes. Serve with sauce, pita bread and sour cream.