Cathy S.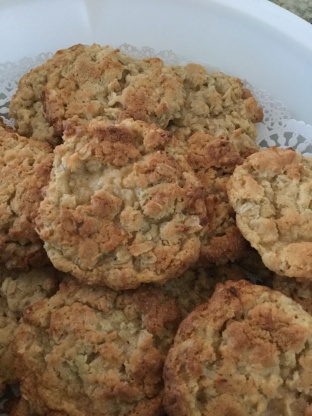 This recipe was passed down from my Great Grandma Crawford. It is a simple cookie that goes great with coffee or hot chocolate on a cold winter's day. I've baked them with both butter or Crisco. The butter version is a flatter cookie, similar to the ones my Grandma made. Enjoy these cookies, they are a real treat from my childhood.
Mix brown sugar and white sugar in the mixer.
Add butter, beaten eggs, and vanilla. Mix well.
Mix four,baking soda, baking powder, and salt in a separate bowl. Add to sugar mixture, mix well.
Add oatmeal, crushed cornflakes, Rice Crispy cereal, and coconut. (When I do this in my mixer the batter is very thick.).
Spoon on a cookie sheet and flatten a little with a fork or spoon.
Bake at 400 degrees for 8-10 minutes.