Central Market's Tootie Fruity Cosmos Strawberry Salad
alligirl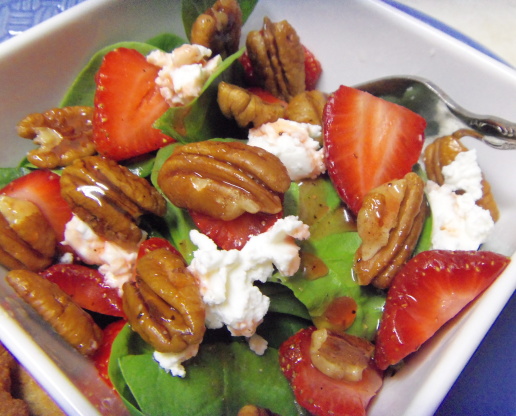 We had this as one of the samples while visiting Central Market here is Dallas. (I call that place the "Disneyland of Food." ) This recipe calls for a head of Cosmos lettuce, but I just use a l lb bag of baby spinach. It is pretty.....Next time, I plan to throw in some other berries and perhaps some mandarin oranges too. The combination of everything with the Feta and nuts is a great combination, IMHO, of course.

I lowered the recipe amount to .4 and used butter lettuce (never head of cosmo's) in a smaller amount still (about a of a quarter head) and pretty much upped everything else bu a quarter to a half. Used tangerine lime dressing for one amazing lunch. The beautiful fresh strawberries, crunchy pecans and all the other flavors and textures were purely delightful. Highly recommended. Made for PAC, Spring 2014.
Toss the lettuce, feta, pecans and strawberries together in a large bowl.
Add dressing to your taste
Add in other types of fruit to experiment.
Amounts can be adjusted to your preference.