Celery With Tomatoes, Olives and Capers
Prep 10 mins
Cook 30 mins

Low cal. Low carb. One Weight Watchers point. High fiber. Low cholesterol. Filling. Satisfying. Cheap. Good! Adapted from A Veggie Venture.
Directions
In a large skillet, heat the oil on medium heat until shimmery.
Add the onion, stir well to coat with oil, let cook while preparing the celery.
Trim the celery ends, cut ribs in thirds lengthwise, then into two-inch lengths.
Add the celery, stir well, then let cook undisturbed for 4 minutes. Stir, then pour in tomatoes, turn down the heat to medium low, cover and let cook until celery is tender, about 20 minutes.
Uncover and stir in capers and olives and cook til warmed through and tomato juice cooks almost all the way down. Stir in basil.
Season to taste.
Serve immediately. Enjoy!
Most Helpful
This was great. Pulled to use up excess celery and took advantage of other reviewers suggestions and served over polenta with some goat cheese. An easy and healthful dinner. BF loved it too. The only thing I did differently was to use dried basil because BF doesn't like the taste of fresh, and used about two cups diced tomato (one 15 1/2 ounze can) to add moisture for the polenta. I'd make this again.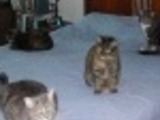 This one's a keeper. Delicious served over polenta.
We both thought this was pretty good. I added in some chopped garlic and brown sugar (about a half teaspoon as my tomatoes were especially acidic tasting) and I'd love a small chilli or some chili flakes in there as well. I love the fact this is made with a vegetable that often lingers a long time in my crisper.