msmia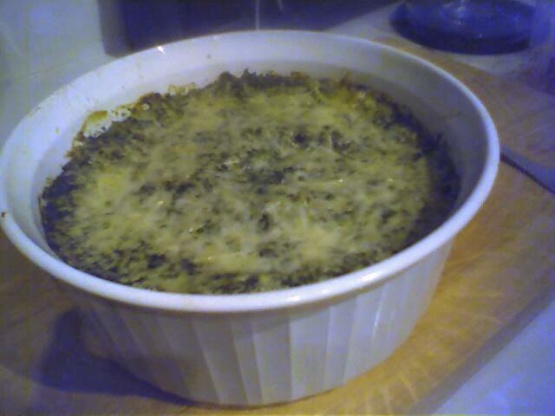 The idea came trying to find a lower calorie version of a macaroni casserole. I have substituted cut up celery for macaroni pasta noodles (similar in shape). It's an easy to prepare casserole that reheats well and is really delicious -- by my calculations its 150 calories per serving (total 6). Hope you enjoy!!

Top Review by Ollin
Fantastic dish!!, I absolutly love it!!... I made some changes though... i didn't saute the onion, but just thawed it and pour it into the blender mixture, then i add dried herbs like thyme, parsley and fresh basil, garlic and onion powder, white pepper and some vegetable powder and instead of the cream of celery, i used a package of soy cream for cooking, so it was totally vegan... I topped the dish with pine nuts and instead of parmesan sprinkled nutritional yeast all over and baked... amazing!!
Spray saute pan w/ cooking spray& saute onion until just starting to brown.
Add thawed& drained spinach, spices& saute until all moisture is evaporated.
In food processor: puree tofu& cream of celery soup, then add spinach/onion mixture& process until smooth (adjust seasonings).
Mix w/ chopped celery, place in baking dish& top w/ parmesan cheese.
Bake, uncovered@ 350 degrees for 40 minutes Makes 6 servings,~ 150 cals each serving.