Celery Root and Beet Salad
awalde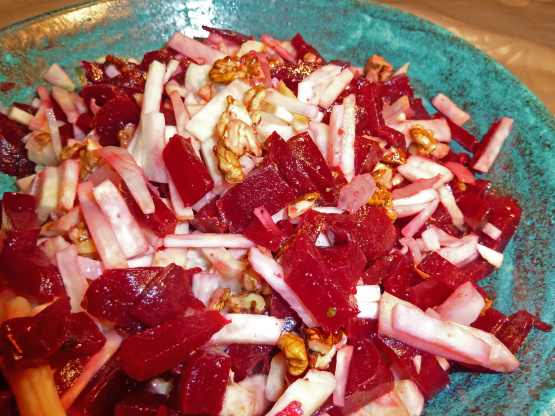 This unique beet salad comes from Epicurious.com The cook time does not include the one hour stand time which is a must to allow the flavors to mature.

Made the recipe as given, & it was absolutely great & I really liked how well it held up for eating the next day, as well! Of course, when we had it the first time, I did set aside half of it for the next day, then tossed it with just half of the walnuts, keeping the other half of the nuts for the second day so they'd be just as fresh! Very much a satisfying, different kind of salad for the 2 of us! Thanks for sharing the recipe! [Tagged & made in Please Review My Recipe]
Put oven rack in middle position and preheat oven to 425°F.
Wrap beets tightly in foil to make 2 packages (3 beets in each) and roast until tender, about 1 1/4 hours.
While beets roast, peel celery root with a sharp knife and cut into 1/8-inch-thick matchsticks. Whisk together lemon juice, shallot, oil, salt, and pepper to taste in a large bowl until combined well, then add celery root and toss until coated. Keep at room temperature, covered, until ready to add beets.
Carefully unwrap beets and, when just cool enough to handle, slip off skins. Cut beets into 1/8-inch-thick matchsticks and toss with celery root.
Let salad stand, covered, at room temperature 1 hour. Taste salad and season with more lemon juice and salt if necessary, then toss with walnuts.