Parsley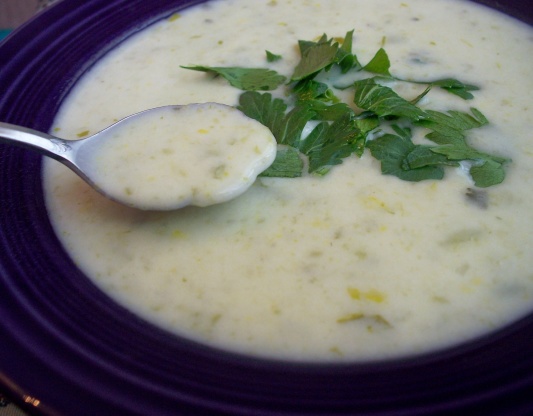 Imagine the aroma of home made cream of celery soup simmering on the stove. Simple, easy and rich in flavor.

Top Review by tdunn
Lovely recipe! I've made it twice and everyone's loved it, even the non-celery lovers. The second time I made it, the brand-new carton of cream I bought was lumpy (dontcha hate that!) so I used an 8 oz. package of cream cheese (cubed)and just made sure it was all melted before I served. OMG! It was fabulous!!
In a large sauce pan, melt butter, add celery, onions, and garlic.
Cook over medium low heat until soft.
Add flour and cook 1-2 minutes over low heat.
Add chicken broth and bay leaf, bring to a boil reduce heat, cover and simmer 30 minutes.
Remove bay leaf, puree (in small batches) in a blender or processor.
Add cream, lemon juice, hot sauce, salt and pepper.
Reheat and simmer 5 minutes.
Garnish with celery leaves.