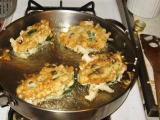 The snack of the 50s! Hey, it doesn't get any easier than this, folks, and I've yet to find anyone who doesn't love this once in awhile for a snack.
Directions
Clean the celery and cut into 4-inch lengths. (This is about three pieces per stalk).
Spread peanut butter as to fill the "furrow" of the celery.
Some people like the "crunchy" peanut butter.
Serve to kids with an ice cold glass of 2% milk.
Most Helpful
My son's favorite. Great source of protein, good healthy snack anytime.

I too have been eating this since I was little, I put raisins or dried cranberries on top. A great snack for young and old. My DS puts chocolate chips on it, weird with the celery but it works for him.
This takes me back to when I was younger! I still crave this snack sometimes.