Celeriac, Potato and Roasted Garlic Mash
Bergy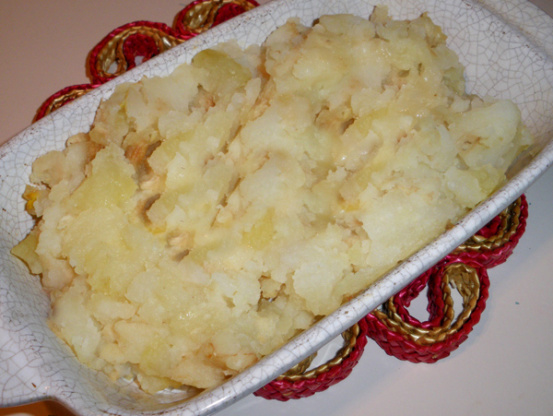 Adapted from the complete casserole and one-pot cookbook. This makes a great side dish, and a nice variation on regular mash potato.
Preheat oven to 200°C.
Add lemon juice to a bowl of water.
Peel and dice celeriac and add to water (lemon prevents browning).
Add celeriac and potato to 2 separate saucepans of water that has been salted.
Cook celeriac for 25 minutes or until tender and cook potato for 15 minutes, or until tender. Drain.
Place garlic on baking tray and roast for about 20 minutes, let cool and peel away skins.
Add butter and cream to potatoes and mash.
Using a food processor, add celeriac and garlic and pulse until smooth, scraping down the sides as necessary.
Add to potato mash and stir to combine.
Season with salt and pepper to taste.