Cedar Planked Salmon With Sweet Mustard Vinaigrette
Rita1652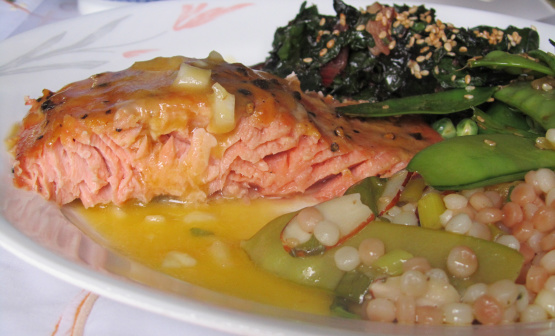 Preparation time does not include the four+ hours soak time for the cedar cooking plank (available online or at many kitchen stores). This is a combination of a recipe from Food Network and the other Bobby Flay. Great served with our without the vinaigrette.

Very good. This does call for a lot of vinaigrette! I`m sure 1/2 the amount would suffice, bringing the calories down on the Nutrition facts. I did grill for 25 minutes which came to 135 degrees. I like sushi temp but DH prefers it well done. It was perfect for both of us. I gave him the ends and I had the center. I didn`t bother removing the skin. Did cut the Dijon rub and brown sugar in 1/2. Thanks for the good eats.
At least 4 hours before, place the cedar plank in water to soak. Place a heavy object on it to submerge completely.
Vinaigrette:.
Whisk the vinegar, mustard, and shallot together in a medium bowl.
Gradually whisk in the honey, then the oil, until the dressing is emulsified.
Season to taste with salt and pepper. (The vinaigrette can be made a few hours in advance, covered, and kept refrigerated. Bring to room temperature and whisk or shake well before serving.).
Salmon:.
Remove skin from salmon fillet.
Remove any remaining bones.
Rinse the salmon under cold running water and pat dry with paper towels.
Generously season the salmon with salt and pepper on both sides.
Lay the salmon (on what was skin-side down) on the cedar plank and carefully spread the mustard over the top and sides.
Place the brown sugar in a bowl and crumble between your fingers, then sprinkle over the mustard.
Set grill for indirect grilling and heat to medium-high.
Place the cedar plank in the center of the hot grate, away from the heat.
Cover the grill and cook until cooked through, around 20 to 30 minutes.
The internal temperature should read 135 degrees F.
Remove the fish to serving plates or a platter and spoon a few tablespoons of vinaigrette over each fillet. Serve immediately.