Cedar Plank Salmon With Ginger Sauce
Peter J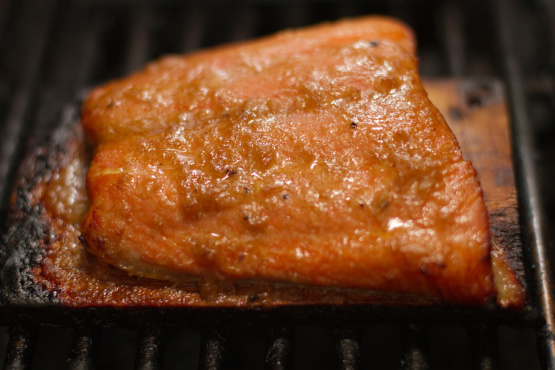 This is from the Home Hardware flyer if you can believe it. We had it the other night for dinner and it was divine.

I finally decided that if I was going to be a self respecting Washingtonian I needed to cedar plank some salmon. I'm so glad I chose this recipe. We devoured this and left nothing behind but plank. I had to stop my 8 year old from licking that clean. Thanks for sharing this fantastic recipe!
In a shallow glass dish, combine the sherry, soy sauce, sesame oil, butter and ginger.
Place the fish in the marinade for 30 minutes.
Soak the cedar plank in water for 20-45 minutes
Preheat the grill at a medium-low setting (300 degrees).
After removing the plank from the liquid, pat dry and coat with olive oil on both sides.
Place the plank on the grill with the salmon and shut the lid.
Leave for 15-20 mins (note: when using whole salmon, the cooking time will increase to approximately 45-50 mins).
Check salmon on the thickest part of the fillet to ensure even cooking. The salmon should have an opaque colour and be flaky to the touch with a fork.
Once done, serve with lemon or lime for squeezing over the fish.