Chefton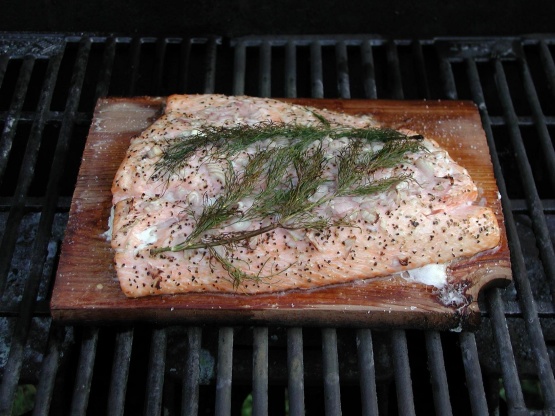 This recipe's roots are with Pacific coast indian tribes who would cook and smoke their fish and seafood tied to wooden boards and placed near an open fire. This version is done on your barbecue and produces results that will have you running to the lumberyard and fish market regularly

Top Review by golgio
Delicious! I made this for a lady friend of mine as a nice romantic dinner. I was a little nervous having never plank grilled before. But the instructions made it easy and the recipe is phenomenal! Try it!!!
Soak a 10 inch long, 6" to 8" wide, construction grade cedar plank 3/4" thick, in water for at least 24 hours before making the recipe.
Make sure you keep the wood submerged by weighing it down with cans.
Start your barbecue and heat it to high.
Rub the salmon filets all over with the oil, sprinkle each one with some of the shallots, top with a few sprigs of fresh dill and a squirt of lemon juice.
Finish with the crushed peppercorns.
Put the plank on the BBQ and sprinkle with a little coarse salt.
Close the cover for a couple of minutes or just until the top of the plank is nearly dry.
Note: Keep a spray bottle of water close at hand in case the wood starts to burn.
Place the filets on top of the plank.
If your BBQ has two burners, turn off the one beneath the wood.
If not, turn the heat to the lowest setting.
Close the cover and cook for about 10- 12 minutes or until nearly cooked all the way through.
Don't overcook.
Squeeze some lemon juice over the top, serve and enjoy.
The plank can only be used once.
Make sure it has stopped smoking and is well extinguished before disposing of it.