SeeImREd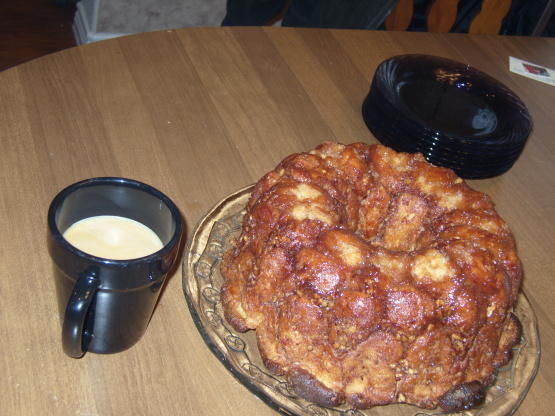 My mother's recipe. CDQ = Can Do Quick. It only needs to rise once. We grew up eating cinnamon rolls made with this. She also recommends it for crescent rolls. In my opinion, breads made with this tend to be dry so it's not my first choice. But it is quick . . .

This recipe appeared on a Gold Medal flour bag in the early '60s. My mother used it to make our Christmas morning breakfast of Cinnamon Pull apart "Monkey" Bread. We've been using this recipe for nearly 45 yrs now and has become a tradition in our family to make on Christmas morning.
In large bowl, dissolve yeast in water.
Add buttermilk, eggs 2 1/2 cups flour, butter, sugar, baking powder, and salt.
Blend 30 seconds on low speed, 2 minutes on medium. Stir in remaining flour. Dough should remain soft and sticky.
Shape as desired. Let rise in warm place until double. (about 1 hour) Dough is ready when slight impression remains when you poke it.
Bake in moderate oven.
For cinnamon rolls: roll in 2 12 X 7 oblongs. Spread with softened butter. Sprinkle with cinnamon sugar mixture. Roll up long edge and slice appx. 1 1/2 inch slices. Place in greased pan and bake at 375* for 25-30 minutes.