Cayenne Chocolate Cookies
Ambervim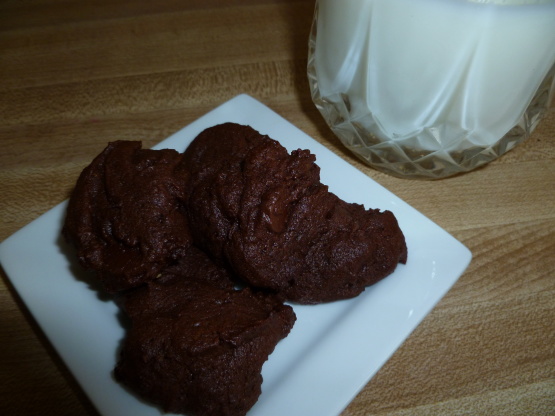 They taste like normal chocolate cookies at first and then, the heat warms your tongue! Very addictive cookies. I wasn't sure how these would turn out, but I made them for the Christmas party this year and they were a huge hit!

This is a very good cookie and a conversation starter at a party. For my taste, these are too sweet, but my kids and even some of the adults wouldn't have changed a thing. As written, this recipe is well-suited to the majority. The heat only comes after the cookie is gone and is just a pleasant warmth on the tongue. Consistency is great. I would consider for a group of only adults, adding a half teaspoon more, and cutting back on the sugar. NOTE: I got distracted when I was defrosting my butter to soften and ended up with melted butter. Also, I did not chill the dough. Even so, the cookies ended up beautifully round.
Preheat oven to 350°F.
Cream butter and both sugars until fluffy.
Add eggs and blend well.
Add cayenne, cocoa, baking soda and salt and blend very well. It's important to blend this stage completely so that heat is evenly distributed.
Add flour and blend.
Fold in chips.
Refrigerate for one hour.
Drop teaspoonfuls onto lightly greased cookie sheet.
Bake 10-12 minutes.