Cayenne Cherry Chocolate Steak Sauce #A1
lbonwill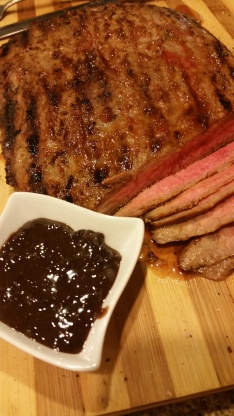 A.1. Original Sauce Recipe Contest Entry. The depth of these flavors are amazing. Just one bite will keep you returning for more of a great meal to serve your family and friends this summer out on the bbq.

delicious combination of flavors
Heat grill. Grease with non stick spray.
In double boiler add chocolate and melt on low heat. Stir until completely melted.
Add mayo. Stir to combine.
Add beer. Stir to combine.
Add all other ingredients, except cherries. Stir and heat for approximately 3-5 minutes Sauce should be semi thick.
Take 1/2 of the sauce and brush both sides of steak. Grill for 4-5 minutes on both sides. Let rest for 5 mins before slicing.
Add chopped cherries to remaining sauce. Stir. Serve with sliced meat.