Caviar Egg Salad Appetizer
Rita1652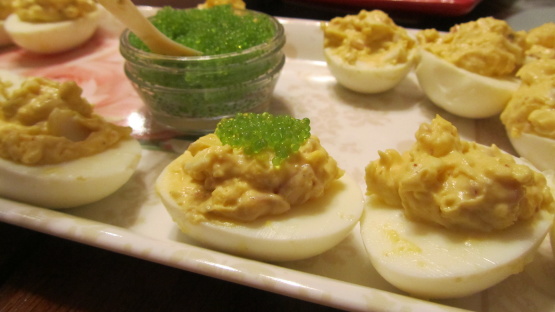 A nice extravagant way to end the year! Also to start the New Year! New Year 2011 I made stuffed eggs using wasabi caviar. My eggs peeled so nice I just had to stuff them. Using less mayo/ smart balance. And a touch of horseradish mustard to the yolk mixture.

Love it done this way! Used red caviar only, salted mildly, and used white pepper. 4 eggs were VERY finely diced, and the other 4 eggs were pulsed in the processor twice - for a consistency somewhere between a fine dice and a mush. The onions were diced to a 2mm size - really fine. The presentation was as lovely as your current picture, if not better - but no one gave the opportunity to take a picture since it was DEVOURED immediately. Love ya Rita!
Mix together eggs, onion, mayonnaise and pepper.
Mound onto a festive plate.
Spread each caviar across each half of the mound.
Arrange toast around the mound.
Serve using a plastic or porcelain spreader.
Caviar and metals don't mix.