Prep 30 mins
Cook 1 hr 30 mins
3 types of pasta with a cheesy meat sauce. I have tried many recipes but never found one to have the flavor that real cavatini has.I think its the pizza sauce and green peppers that make this recipe the best I've tried..Enjoy!!!
Directions
In large sauce pan add all ingredients,but pasta and cheeses.
Cover and simmer for 1 hour.
Cook pasta (dente) about 10 minutes.Drain.
Alernate pasta,meat sauce and cheeses into a 9x13 baking dish.
Bake 350 degrees for 30 minutes.
Let stand for 10 minutes before serving.
Note-you may omit mushrooms,but you really need the onion and green pepper for a wonderful flavor -- .
I have made this recipe again and substituted 1-can 26 1/2oz Del Monte Spaghetti sauce,1/2 cup red wine and 6 garlic cloves my family said it was as good if not better than orginial recipe.
Most Helpful
I made this recipe for our family and to share with a single mom so she wouldn't have to cook. I used Bertolli organic basil, olive oil and garlic for the spag sauce. Since all of our kids are picky, I left out the pepperoni and used my hand blender to puree the sauce/veggies. Everyone loved it! Probably didn't hurt that I told them is was "pizza pasta"! Thanks for posting- we will be having this again!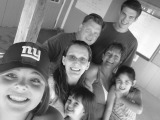 I have tweaked this to one of my favorite go to recipes. I use 1 lb of browned hamburger, only one cup of pepperoni, extra garlic and cottage cheese instead of ricotta. To me it is as yummy as lasagna, but without the bother of the lasagna noodles. ( If you want o cut calories use fat free cottage cheese and only one cup of mozzarella, it's still delicious!)
This recipe was so easy to make! I did omit the pepperoni as I don't like it, but the 3 types of sauces were great together and the family loved it.