Bri22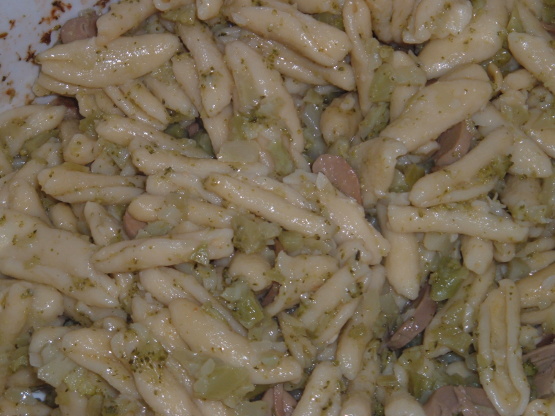 Cavatelli is my favorite pasta because it is a big thick pasta to bite. This recipe is from my aunt-in-law; she serves it in a crock pot for all of our summer get togethers. The flavor is just as amazing as the smell of it cooking!

great recipe! picked this since chef was "chef of the day". loved your bio!!! this was very simple to make and the taste was so good. followed recipe except the cornstarch; thought i had some and did not. doubtful that it hurt the recipe. all of the flavors blended together nicely and my 3 yr old daughter loved it. used all organic ingredients and my 3 yr old daughter loved it. served it with some good italian bread and tiramisu for dessert for her and i. thanks for sharing.
Saute garlic in 2 Tbsps butter.
Add broccoli and mushrooms; stir fry until al dente.
Add broth to cooled broccoli.
Simmer on medium to medium low until the following steps are completed.
Cook cavatelli as directed on back of package until done .
Drain really well.
Top with other 2 Tbsps of butter.
Add cornstarch mixture to broccoli sauce and stir well to thicken.
Pour over cavatelli and season with salt, pepper, and garlic salt.
Stir well and add grated parmesan.
***To make in a crockpot; make the same way but put the cooked cavatelli in the crockpot and pour sauce over cavatelli. Cook on low for 2-4 hours.