Cauliflower With Marigold Sauce
Rita1652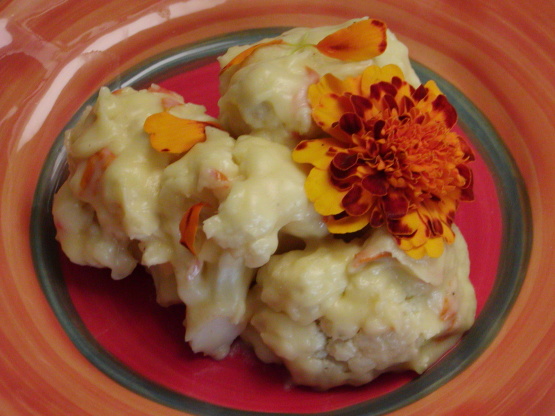 Marigolds are such bright and cheerful flowers, and as well as being good to look at they can also be good to eat. They have a subtle spicy flavour which can transform this dish into something special. This came from the book" Flowers as Food".

I used 1/2 cup cheese. Wish I use more. I needed to add 1 cup water to the roux. It was just to thick to keep cooking for 10 minutes. I tossed the cauliflower into the sauce to distribute evenly. I had to put this covered dish into the oven to be reheated because dinner was put on hold, And we liked the results of this much better. If I planned this better I would have topped it with extra shredded cheese then put into the oven. I use 3 heads of marigolds, the petals kept their color even through baking. Thanks Sharon for an interesting way to use garden flowers.
Break up the cauliflower into large florets.
Steam 10 to 15 minutes, until cooked but not too soft.
In a saucepan, melt butter.
Add flour until a roux is formed (soft paste).
Slowly add milk, whisking to keep smooth.
Turn down the heat to low and simmer for about 5-10 minutes to thicken sauce.
Stir in grated cheese, not allowing to boil.
Remove from heat, and add in the marigold petals.
Stir carefully.
Place the cauliflower into a serving dish and pour the sauce over the top.
Serves 4.
Enjoy!