Cauliflower With Lime and Hot Pepper Vinaigrette
Hey Jude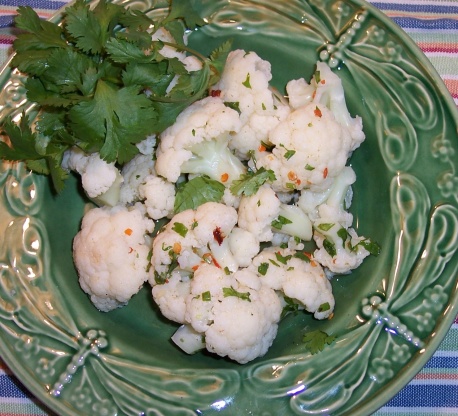 This delicious side dish has just a hint of heat from the red pepper flakes. If you like the flavors of lime, vinegar, red pepper, garlic and cilantro, you better make a double batch of this because it's addictive and goes fast. I found this in a friend's heart healthy cookbook, I think the author was Dr. Dean Ornish, and adapted it to our own tastes.

DELICIOUS!!! The lime brings out the nuanced flavor of each ingredient. The dish almost takes on a Mediterranean flavor due to the cumin. So easy to make and super inexpensive. This is sure to be a crowd pleaser and I will definitely be sharing this recipe. Thanks Hey Jude!
Blanch the cauliflower in the boiling water and then plunge into ice cold water to stop the cooking process, then drain well.
Heat the lime juice, vinegar and red pepper flakes over low heat for just a few minutes, to soften the pepper flakes; don't boil it.
Pour lime juice mixture over the cauliflower then add the garlic, cumin and cilantro and toss well.
Let marinate in fridge or at room temp for 1 hour before serving.