Cauliflower With Lemon Mayonnaise-Cheddar Crust
Kathy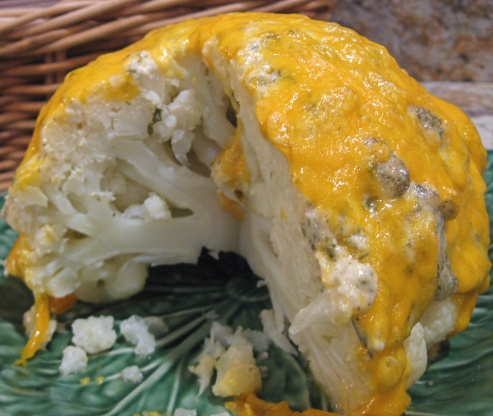 I haven't tried this, but it looks like it has real potential! :)

Oh my!!! This was so good! I also used the micro for the first step. I didn't have any tarragon so I substituted parsley. I also used light mayo. It was the best cauliflower ever. My hubby and I ate the whole thing with dinner.
Preheat oven to 350 degrees F.
Steam the whole head of cauliflower for 15 minutes, until barely done; cool slightly.
Place whole head of cauliflower in baking dish.
Combine mayonnaise, lemon juice, lemon zest, mustard, pepper, and tarragon.
Spread mayonnaise mixture over cauliflower.
Pat cheese onto mayonnaise-coated head of cauliflower and bake in preheated oven for 10 minutes.
Cool for a few minutes to let the cheese set, then slice into 6 wedges and serve.