Cauliflower With Cheese and Chips
Parsley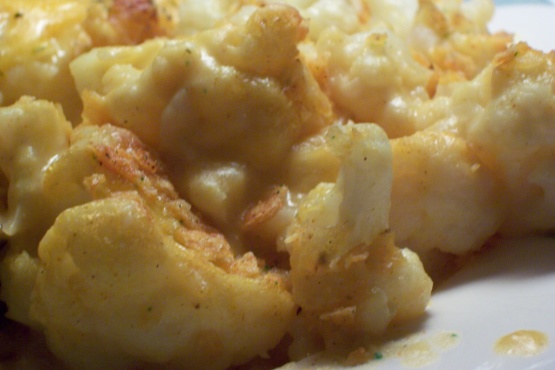 The cauliflower isn't "drowning" in the sauce. In fact, in autumn, when the cauliflower is very, very large, sometimes I increase the sauce/topping by 50% or even double it. Kids generally love it!

Top Review by Mandy
This was very nice. It's similar to how I normally do my cauli except for the corn chips. I did it with half cauliflower & half broccoli. I did goof a bit and forget to add the cheese to the sauce but simply added it on top with my stale plain corn chips and it was fine. Thanks!
In a large saucepan, steam cauliflower flowerets until tender -- about 10 minutes. Drain.
Place cooked flowerets in a lightly greased or sprayed 8" x 8" (or larger) glass casserole dish.
In a medium saucepan over medium heat, melt butter. Add in milk. Whisk in flour. Stir in cheddar cheese, salt, garlic powder, white pepper, and paprika. Stir frequently until cheese is melted and smooth.
Pour hot cheese mixture evenly over cauliflower in the baking dish.
Evenly sprinkle finely crushed corn chips over top. (you can also mix the chips right in the cheese sauce if you want then "softer").
Bake at 375 for 15-20 minutes or until sauce begins to bubble and cauliflower just slightly starts to brown.