Cauliflower & Sweet Potato Curry Soup
Bergy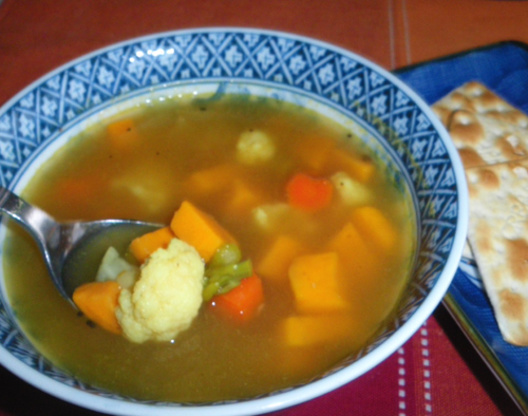 This is a wonderful soup, creamy and warm with just a hint of curry, it's quite enjoyable.

So, so easy and oh so delicious!! I added just a 1/2 teaspoon more of curry but otherwise followed the recipe. I also just lightly pureed with an immersion blender, leaving some chunks of veggies for substance. This one is going to the top of curry dishes!!!!!
In a large saucepan sprayed with vegetable spray, heat the oil.
Sauté the garlic and onion until softened, about 5 minutes.
Add the curry powder, cinnamon, salt, pepper, cauliflower, stock, sweet potatoesand honey and bring to a boil.
Cover, reduce the heat and simmer for 25minutes or until the potatoes are tender.
Transfer to a food processor or blender and purée until creamy and smooth.
Return to the saucepan and thin with more stock ifdesired.
Ladle into bowls. Garnish with a dollop of sour cream and cilantro.