Cauliflower Soup With Blue Cheese
Jostlori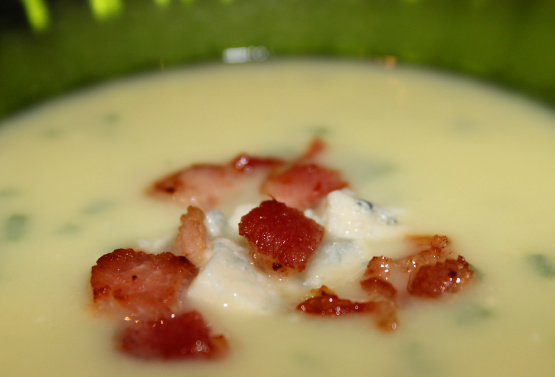 From the Everything Nordic Cookbook comes this yummy soup recipe.

Wow. Simply wonderful soup. DH, who never wants to express a rating opinion, insists I give it five stars... and I concur! The flavor and texture of the soup is amazing. We tasted it before adding the thickening and it was perfect as it was. Adding the thickening changed it somewhat and we won't use it in the future. The soup is very rich and you don't need a big bowlful unless you want to tempt cardiac fate! It would be the perfect starter for a dinner party. Thanks so much for posting a wonderful recipe! Made for team Gourmet Goddesses, ZWT9.
Saute the garlic and leek in butter until translucent.
Pour in vegetable broth; add cauliflower florets.
Bring to boil; reduce heat to medium-low, cover and cook for 10-15 minutes until cauliflower is crisp-tender.
Transfer 1 cup of broth to bowl; whisk in cornstarch or potato starch flour to make a slurry; set aside.
Using an immersion blender, puree the soup in the pot until creamy.
Whisk the slurry into the pot and heat; fold in blue cheese and parsley.
Simmer for an additional 5 - 10 minutes.
Garnish with bacon crumbles and additional blue cheese to serve.