jenne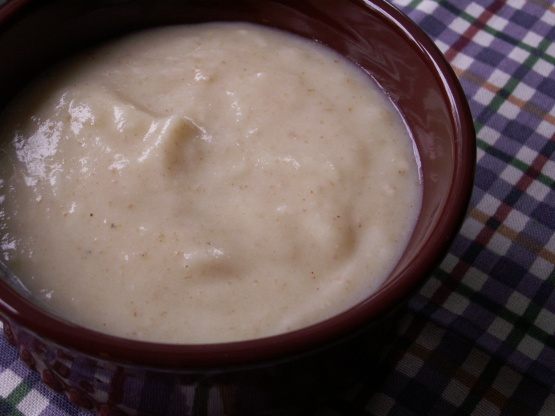 This is from 250 Delicious Soup Recipes -- a classic. It said "cheese", so in true 'Zaar fashion, I decided upon Pecorino Romano.

Well, I'l be eating this tomorrow, but it tasted not bad so far. For some reason I found the instructions confusing. Like adding the milk mixture to the flour, when the milk had already been added to the cauliflower broth? Perhaps I wasn't reading right? Also no temperatures were indicated, which I like having in a recipe. And perhaps, but I'll know better tomorrow, it tasted a bit too strongly of butter to me. My suspicion is it will taste great, it just seemed like the butter was leaving a film in my mouth? Perhaps I messed the roux? Anyway, thanks for sharing!
Cook cauliflower in boiling water, uncovered until tender.
Place cauliflower and water in blender and stir. Add milk.
Melt butter; add onion and saute until tender, but not brown.
Blend in flour, salt, and cayenne; add milk mixture gradually, stirring constantly and cook five minutes.
Pour egg yolk in gradually and mix well.
Garnish with cheese.