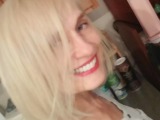 This is from 250 Delicious Soup Recipes -- a classic. It said "cheese", so in true 'Zaar fashion, I decided upon Pecorino Romano.
Directions
Cook cauliflower in boiling water, uncovered until tender.
Place cauliflower and water in blender and stir. Add milk.
Melt butter; add onion and saute until tender, but not brown.
Blend in flour, salt, and cayenne; add milk mixture gradually, stirring constantly and cook five minutes.
Pour egg yolk in gradually and mix well.
Garnish with cheese.