Parsley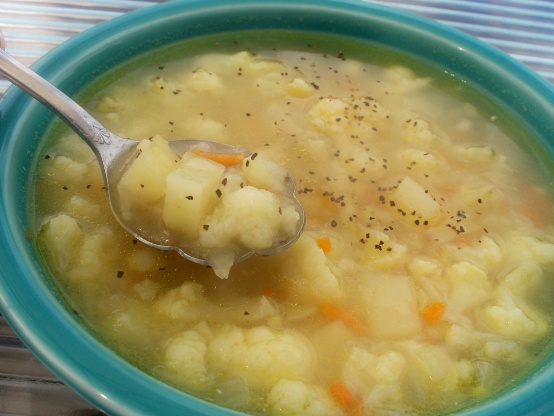 This soup is best when it's eaten the same day it's cooked. I believe it's taken from Cooking Light, but not positive.

Souper! ;) For such a low-fat soup, it's wonderful. The caraway seeds really add a great flavor. After I took the photograph, I used my stick blender and just whizzed it in the pot for 2 - 3 seconds. The soup thickened just a little bit from the partial puree. I'm going to do that whenever I make it.... just personal texture preference. Thanx for posting this!
Melt butter in a Dutch oven over medium-high heat; add onion.
Cook 4 minutes or until lightly browned, stirring occasionally.
Add the cauliflower, potato, carrot and caraway seeds.
Cook 6 minutes or until cauliflower begins to brown, stirring frequently.
Add broth; bring to a boil.
Reduce heat; simmer 20 minutes or until vegetables are tender.
Stir in salt and pepper.