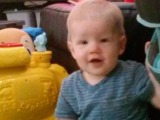 My mom's cousin made this for our Family Reunion this past July. As soon as she set it out on the table, it was gone. It is that good.
Directions
Mix ingredients in pan in layers as listed above.
Sprinkle parmesan cheese and sugar on top.
Refrigerate over night.
Mix just before serving.
Most Helpful
This is a family favorite. The only salad my brother will eat! A must have at all family gatherings.
I have made this for years and we just love it !!!! I also use some broccoli flowerettes for color. I use brown sugar and stir it into 1 c Hellman's mayonnaise then pour that over the very top of the salad. It is absolutely the best salad ever !!!!