Derf2440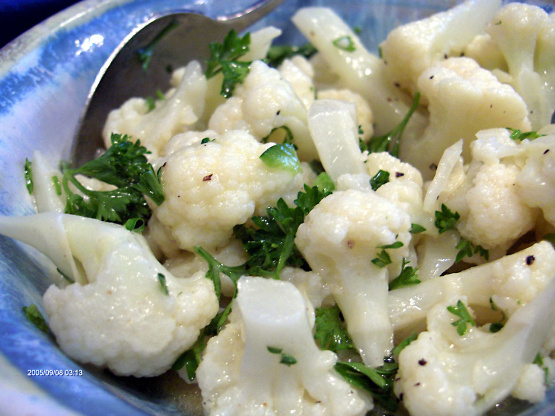 Can be prepared up to 24 hours in advance. A simple salad for lunch or as a light dinner with some bread and a fruit yoghurt as a dessert.

I love it when a recipe proves my sceptical self wrong. This one definitely proved me wrong. The dressing was great and is something I would like to try over a variety of different salads. I wasn't sure what type of chili pepper to use so I used a jalepeno I had on hand. Thanks for sharing
Cook cauliflower in salted water until tender crisp, about 8 minutes. Drain and drop in a bowl of cold water to cool quickly. Drain.
While cauliflower cooks, mince parsley and chili. Mix all dressing ingredients except oil until well blended, mix in oil and taste. Dressing should have a nice tang but not be too acidic. Add more sugar if nessecary.
Toss cauliflower with parsley, chili and dressing in a large salad bowl. To allow flavors to blend let salad rest for at least 15 minutes before serving or keep in the fridge up to 24 hours. Serve at room temperature.