Rita1652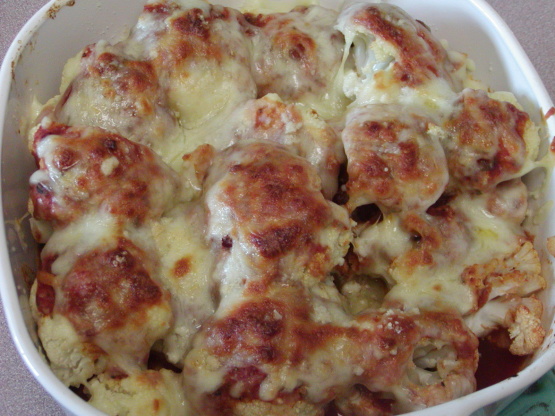 This is a lovely way to have cauliflower, particularly for people who say they don't like it. Quick, as it is cooked in the microwave.

I used one head cauliflower. For the cheese I used mozzerella and romano. I did use the anchovies(love them). As for the chili I used one small dried chili. Microwaving the oil mixture for 3 minutes was quite impossible because it just wanted to splatter all over. So I added the rest of the sauce ingredients and cooked covered with plastic with escape steam holes. As you see in the 2 picture one is microwaved and the other I put under the broil the brown. As for micorwave recipes this is very good. It had a nice spicy kick to it with a background of anchovies that I picked up on. As my DH didn`t because he wouldn`t have eaten it!Thanks for posting this easy recipe with a lot of tatse.
Place cauliflower in a shallow microwave dish, cover and cook on high for 6-8 minutes.
To make sauce, in a microwave-safe jug combine oil, garlic, onion, chili and anchovy if using.
Cook on high for 3 minutes.
Stir in tomatoes and juice, pepper, Worcestershire sauce and marjoram, Cook on high 2-3 minutes.
Pour sauce over cauliflower; sprinkle with cheese and cook on high for 1 minute.