Parsley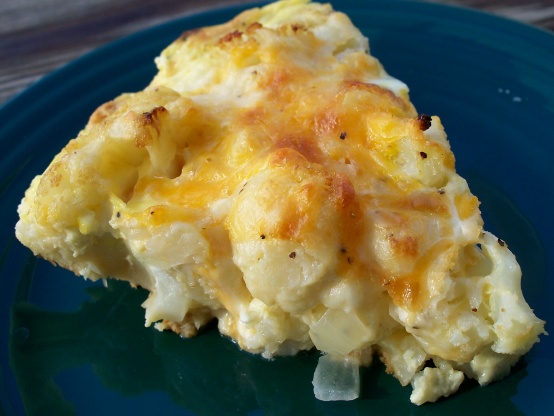 Great pie, similiar to the traditional quiches, even a real man will eat this one!!
The flavor of the filling was really good! I did make two tiny changes. The first was I added some chopped garlic because we love garlic. The second was instead of boiling then draining the cauliflower, I just cut it smaller and sauteed it with the onions and garlic. The only reason I gave it 3 stars and not 4 is because the crust, although good around the edges, was kind of mushy on the bottom. I think I will make this again but with a regular pie crust. Thanks for the recipe.
Melt butter in a Large saucepan, cook onions until softened.
Add cauliflower pieces, season with salt and pepper.
Cover with water.
Boil until just tender.
Drain well.
Arrange crescent rolls in pie pan, pressing into the bottom and up the sides.
Place cauliflower in shell, with stem ends facing down.
Sprinkle cheese over pie.
Mix eggs and milk together, season to taste again.
Pour over cauliflower.
Bake at 350 degrees for about 45 minutes or until set.