Cauliflower " Hash Browns "
Leslie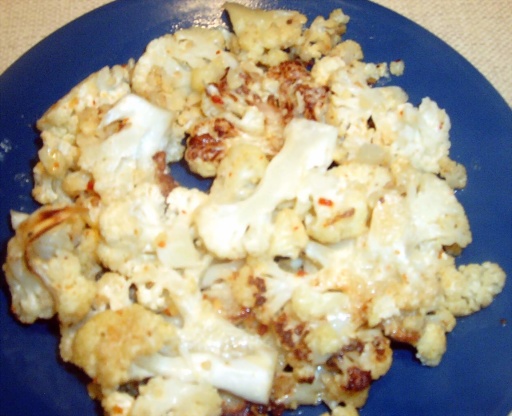 This recipe comes from a Food Network show, I've changed it somewhat to use less ingredients but still retain the flavor. You MUST use an iron skillet.

I didn't have an iron skillet, but managed to make the recipe anyway substituting cayenne pepper for red pepper flakes (I was out) and found it quite tasty! You'll probably still have to disguise it with cheese for the kids though :-)
Slice the cauliflower lengthwise, about 1/8-inch thick. (save the little cauliflower "crumbs")
Heat 2 tablespoons of olive oil in a large iron skillet over medium heat.
When hot, but not smoking, add the cauliflower slices, spreading out into a single layer.
Do not stir, but let the vegetables cook, undisturbed, until nicely browned on the bottom, about 3 minutes.
Add the salt, reserved cauliflower crumbs, garlic powder, and red pepper flakes, and give the vegetables a gentle stir.
Continue cooking, only stirring once or twice, until the vegetables are cooked through and nicely browned, about 5 minutes more.