Parsley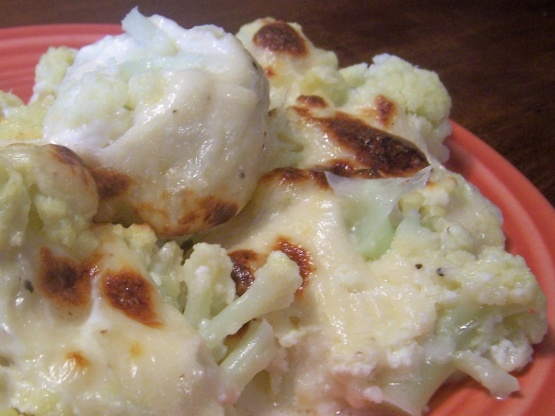 Flavorful, simple, and different from other cauliflower gratin recipes on Zaar. The light custard surrounding the cauliflower is delicious. From the book French Women Don't Get Fat. Prep time includes both cooking the cauliflower on the stove and broiling it.

This was quite tasty. However, the custard did not set up when cooking it under a low broiler, so it was a little soupy. I ate it anyway, with a spoon. It's possible I added a bit too much milk...am living in Spain in a furnished rental that lacks measuring cups!
1

head cauliflower

2

cups milk (fat free works well)
1⁄2 teaspoon salt

1

egg
1⁄2 cup grated cheese (gruyere, swiss, jarlsburg, comte, parmesean, pecorino, or any combo of two)

1

tablespoon butter
salt & freshly ground black pepper
Trim the cauliflower; separate the flowerettes and cook in the milk and the 1/2 teaspoons salt until tender, 10-15 minutes. Drain, reserving 1/3 Cup of the milk.
Arrange the cooked cauliflower in a lightly buttered 9x7 baking dish. Beat together the egg and reserved milk. Add the cheese and spread over the flowerettes. Add salt and pepper. Dot with butter.
Broil the gratin until browned and bubbly. (I use a "low broil" on my oven, for about 5-7 minutes.) Serve hot.