PaulaG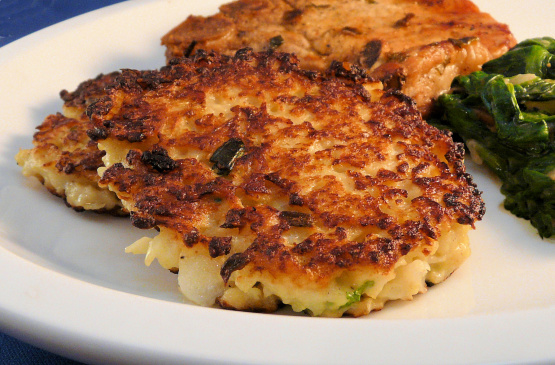 Just trust me. These are so addictive. You can eat them hot or I like to eat them cold the next day for lunch.

These are great! I put a bunch of garlic in, use about 1/4 tsp of salt and white pepper, and fry them in olive oil. As a side note, making them a bit smaller makes them crispier (as you would expect) and more fun!
In the microwave, cook the cauliflower in a covered dish with two tablespoon of water until soft.
Drain the cauliflower and mash with the back of a fork or potato masher.
Add the egg, salt and pepper, and enough flour until you can form patties; about 1/4 cup.
Add enough oil to coat the bottom of a skillet. Over medium high heat, brown the caulflower patties. Eat!