Parsley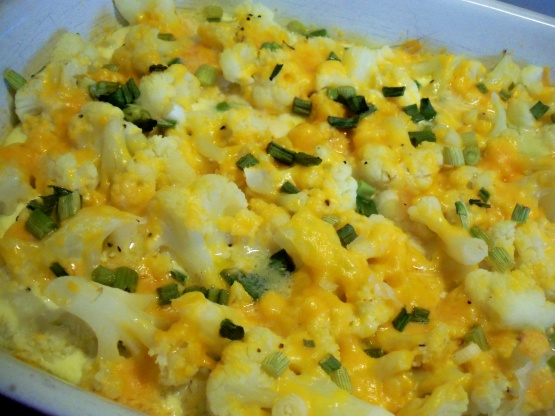 A nice sidedish for any meal. Feel free to make a cauliflower and broccoli mix if you like.

This is a fantastice recipe!! Although I like cauliflower, it is not a vegetable I instinctively know how what to do with. This recipe is easy, delicious, quick to make and you don't need a ton of ingredients. Also, you could use this as a base recipe and be creative by adding different veggies, or meat and/or adding different varieties of cheese and you could also make this more decadent by adding cream instead of milk. This is a great cold weather, easy go to side dish that is great for any occasion. Thanks for sharing!!!
Preheat oven to 350 degres F.
Cook cauliflower in boiling water and drain.
In a small bowl, beat eggs and add milk.
Mix well.
Place cauliflower in a greased baking dish.
Pour milk/egg mixture over it.
Sprinkle with the remaining ingedients.
Bake for 30 minutes.