Cauliflower Confetti " Rice "
Kitty Z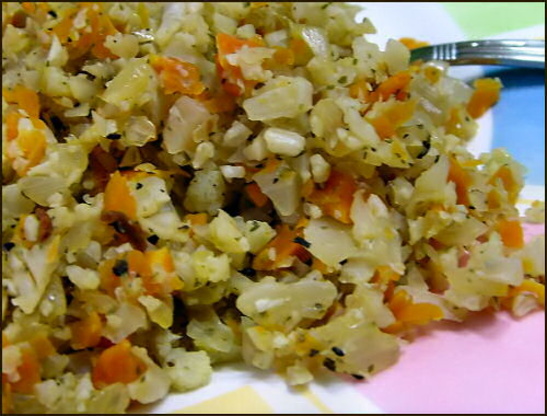 I like flexible recipes, this recipe is quite flexible. We eat low-carb in our house; this recipe was developed out of a need for a rice substitute - it is easiy adapted to any cuisine, just add spices that complement your meal. We especially like it with curries.

Great idea but I found the onion to be overwhelming. I might try it again with quarter of an onion. Thank you.
In a food processor, chop the cauliflower until it looks like 'rice', remove and set aside.
In food processor chop one seeded red pepper, the celery, garlic and the onion.
If using the leek, slice the leek in 1/2 inch slices.
Heat oil in non-stick saute pan, add the vegetables, and stir over medium heat until the vegetables start to 'weep' and release some of their liquid.
Add the spices and set heat to low, cover and cook until 'rice' is the desired consistency. Add small amounts of water, if needed.
Delicious on its own or as a base for curry or ragouts.