Prep 10 mins
Cook 35 mins
Perfect on a chilly night !!
Directions
Heat butter in large saucepan.
Add onion, cook till soft.
Add cauliflower, potato, stock, milk and seasoning.
Bring to the boil, reduce heat, simmer 30 mins or till cauli is cooked and potato soft.
Whizz in food processor till thick and cream.
Add more milk to thin if you like.
Stir through cheese pieces.
Serve.
Reviews
Most Helpful
This was a nice warmer on a cold, snowy night. I added a couple of chopped up celery stalks along with the onion since they were in the vegetable drawer and had to be used up. My head of cauliflower was huge, so I added an extra potato to balance things out. After the soup had cooked quite a while, I sampled it and decided to add a pinch of thyme, rosemary and a dash of fine herbs (a seasoning blend). For the cheese, I used shredded medium cheddar. Once the soup was fully cooked I just used my potato masher and mashed the vegetables well. It was not smooth, but my family enjoys having little chunks of vegetables in their soup. This was a very nice change from our regular cream of potato soup...the cauliflower added a bit of an unexpected sweetness which everyone enjoyed. I have added this recipe to our winter soup rotation. Thanks for posting it Kate. Made and reviewed for the 62nd AUS/NZ Recipe Swap.
This is a pleasant, bone-warming soup to enjoy on a chilly winter's day. I made this exactly as posted, except I used my immersion blender to puree the soup. I also used a combination of shredded sharp and mild cheddar cheese, which I think blended more easily. Thanks for sharing!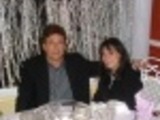 Thick and creamy. I made this as written, but decided to add more cheese (I used sharp cheddar). It was very easy to make. I left some of the soup unblended for a tiny bit of texture. I sprinkled a little ground nutmeg on top to serve. I would probably add some other herb or spice next time to add just a little more flavor. Overall, it's a lovely, easy soup. Thanx!